When you're busy and on-the-go, home cooking can get put on the back burner (pun intended). But now that many of us are spending our days at home, you may have found some additional pockets of time that weren't there before. The time you regained from your morning commute allows you to cook up a hot breakfast. And no longer sitting in rush hour traffic gives you time to try out some new recipes for dinner.
Why not make the most of your time at the stove or grill with a fun, new cooking utensil that can do the job of five? If you've never heard of a FlipFork before, it's like the Swiss Army Knife of cooking and grilling.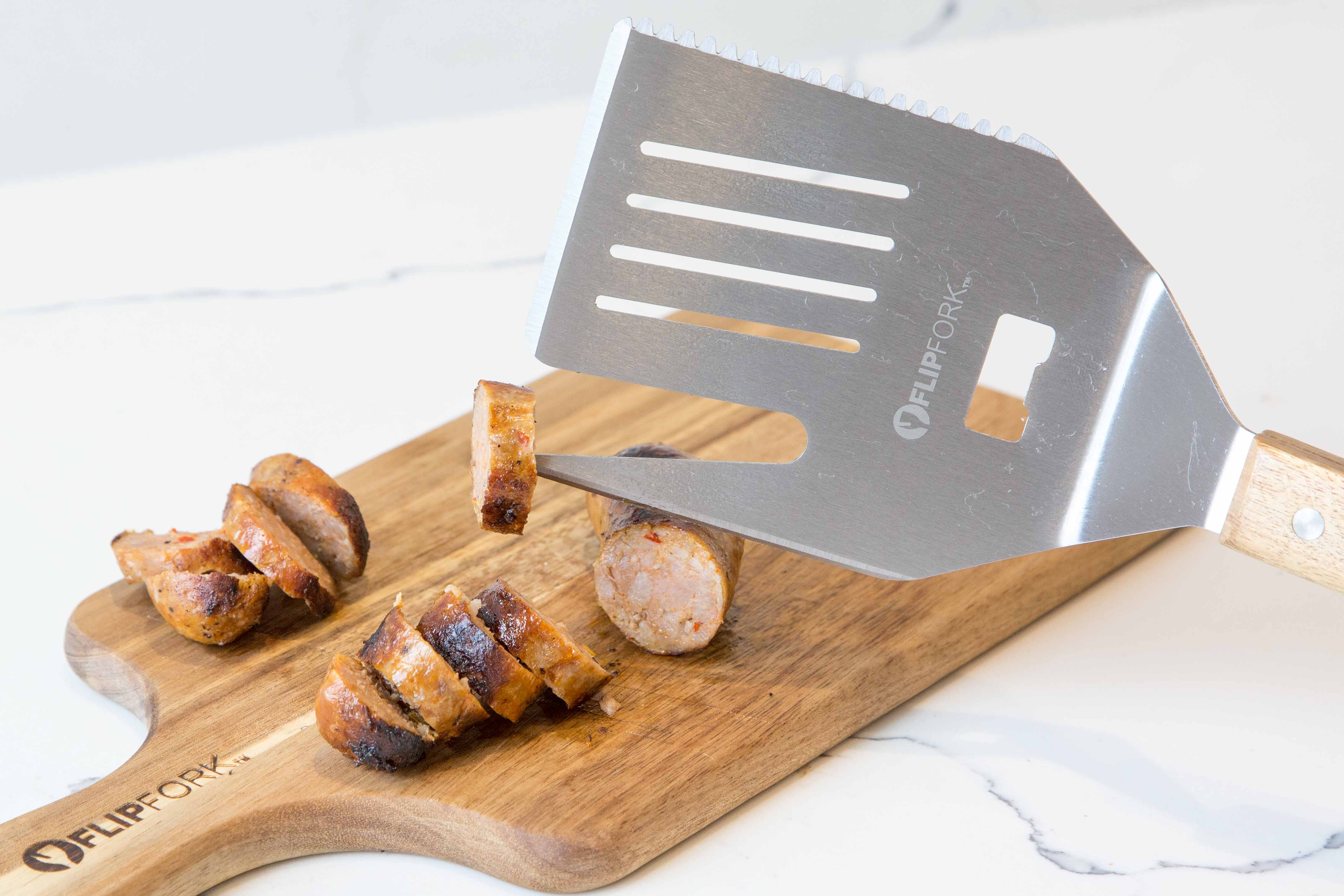 FlipForks are the Coolest Looking Grilling and Cooking Tools
Break out your FlipFork at your next BBQ and your friends are sure to take notice. Prepare to amaze them with all the cool things you can do with just this one tool. It's more than just a grill spatula…
It Tenderizes Meat
There is a serrated edge of one side of the FlipFork that allows you to tenderize your steaks right as they're cooking on the grill.
It Can Serve as a Fork
Ever lost a burger through the grates of your grill? Not anymore! The FlipFork has a poker on one corner that acts as a fork for retrieving those fallen burgers.
That prong also makes it easy to pick up and flip over foods other than burgers, like sausages and chicken. You can use it to check for doneness too!
It's Also a Knife
One side of the FlipFork has a blade that's perfect for slicing tomatoes and onions to top your burgers.
It Can Open Bottles
Have you ever brought out a nice, cold beverage to accompany you while you grill but then realized you forgot your bottle opener in the house? No problem when you've got the FlipFork! The Boss model also functions as a bottle opener.
FlipForks Are Not Just for the Grill
Does your grill hibernate for the winter? That doesn't mean you can't get your FlipFork fix until the spring. The Flex model is made for the kitchen so you can continue to enjoy a multifunctional cooking utensil indoors too. This model combines 4 cooking utensils in 1, so you'll be sure to use it year-round, if not every day.
It Can Grate Spices
The Flex model of the FlipFork includes a spice grater so you can upgrade your Sunday morning pancakes with fresh grated cinnamon.
The FlipFork Will Save Space in Your Kitchen
Since the FlipFork replaces five kitchen utensils, you'll save more space in your kitchen drawers or your grill cabinet. It'll take up less space in the dishwasher too. Yes, you can wash your FlipForks in the dishwasher! Both The Boss and The Flex models are dishwasher-safe.
FlipForks Save You Money
One FlipFork will cost you less than the five tools it replaces. Who doesn't want to save more money?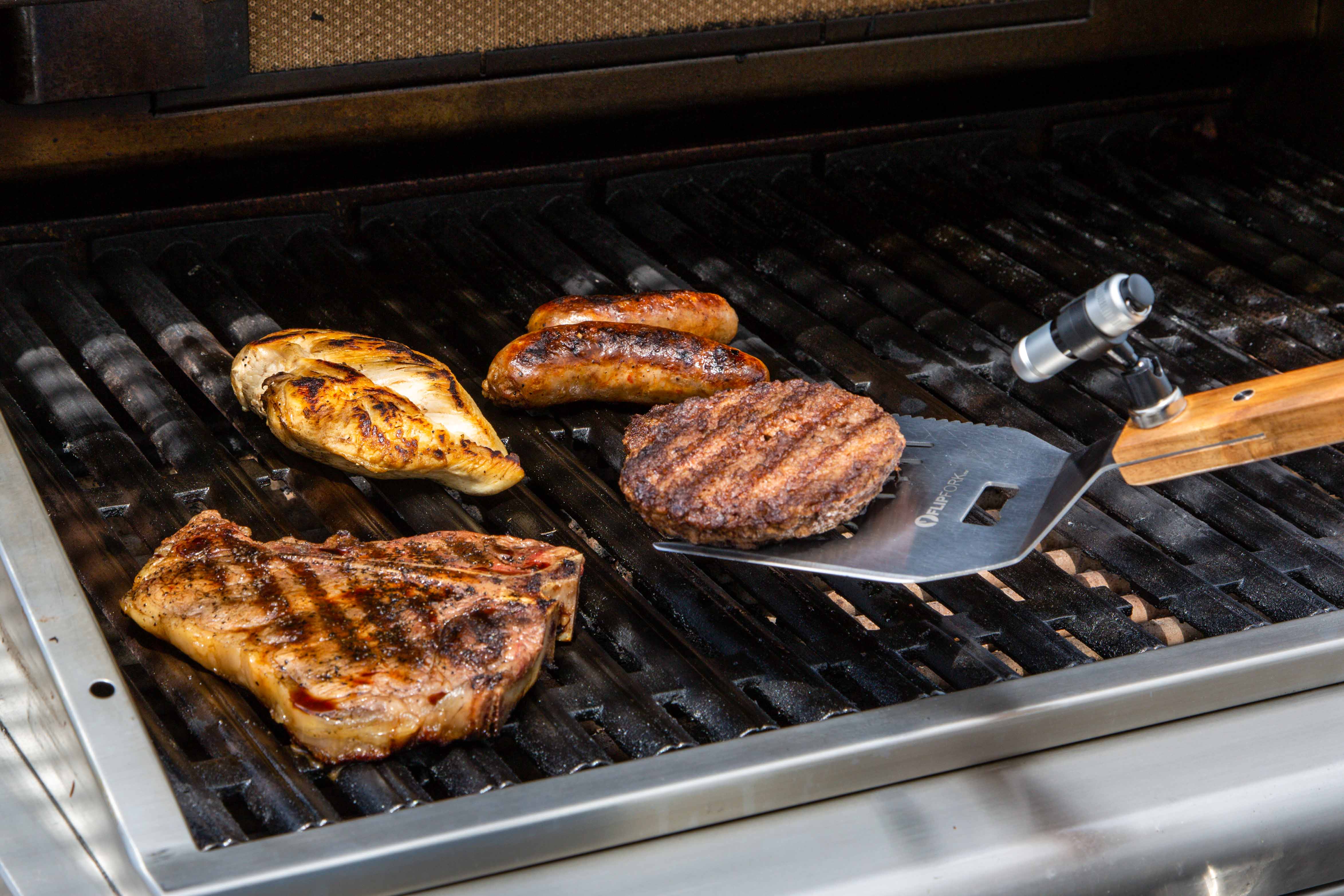 FlipForks Make an Awesome Gift
Be the one to introduce your friends and family to this amazing cooking and grilling gem. The FlipFork is one gift they won't already have! With a choice between The Boss and The Flex model, you'll be sure to please any cook or grill master.
For one cooking utensil that can flip your burgers, turn over your chicken, tenderize your steaks, slice your burger toppings, and crack open a beer, everyone needs a FlipFork!